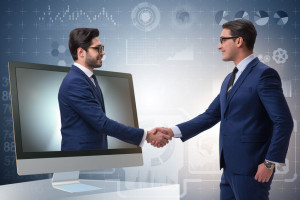 Are you attending a virtual conference this year? Surveys show that most conferences and events nationwide this year will occur virtually at least through the third quarter. That's why we wanted to share with you some simple ways you can get the most out of your virtual conference experience.
Prepare for a virtual conference just as you would an in-person conference. Review any e-mails or notifications leading up to the event. You don't just want to wait until the last minute to try to log in.
Prepare mentally for attending the conference. You don't want to just "show up" online. Be prepared with any prep work you would have done prior to attending any in-person sessions. Minimize any potential distractions surrounding you, including your email and phone notifications.
Be bold. Just as you wouldn't attend an in-person conference and stay in your hotel room the entire time, except for a session or two, you should also plan to participate fully in virtual sessions. That means being willing to ask questions, provide input and take advantage of the opportunity to network.
Follow the social media channels of the conference host, speakers, panelists, sponsors, vendors and/or attendees.
Be active on social media during the event. Social media is a great tool for staying connected and asking questions before, during and after a virtual conference. If you aren't comfortable asking a question in a live event, use that hashtag to ask your questions on social media channels. Not sure you want your question to appear in public spaces? Use direct message features or send a private email.
Take time to stroll. At a conference, you may pick up a cup of coffee and stroll through the booth areas. Do the same if there's a virtual trade show.
Be patient! Just as you are learning to now navigate a virtual conference, so are all the other attendees, vendors and hosts. There will be times when technology doesn't work right, people forget to mute themselves or even random hiccups occur. Some of it may even feel awkward. Through it all, remember we are all working to adapt in the midst of all the changes COVID-19 has brought to our world.