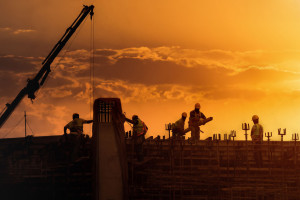 The global pandemic has had a substantial impact on the construction industry over the past year and a half. While many construction projects were not shut down completely in 2020, many faced delays and some companies were forced to lay off workers.
According to an article in Contractor Magazine, the national Chamber of Commerce's Commercial Construction Index shows that contractors are optimistic about their business prospects and planning to invest in equipment and people this year.
Signs of optimism
Contractors are more optimistic now about both revenue expectations and hiring activity for 2021 than they were in the last quarter of 2020. The chief policy officer of the U.S. Chamber, Neil Bradley, said in the article that the continued vaccine roll-out is a critical milestone for the construction industry. At the same time, there is one aspect that does give pause to some in the industry: finding skilled workers It was an issue before COVID-19 appeared on the horizon and it's likely to be an issue again as the industry begins to recover.
"While it has remained a chronic problem over the last year, heightened concern may be emerging again as contractors look to hire," Bradley said. "The U.S. Chamber is committed to supporting businesses in retraining and making sure the economy has the skilled workforce it needs."
Challenges remain
The survey of contractors found some other concerns, although none completely tempered the optimism for better times ahead in 2021. There are material shortages. For instance, 22% of those surveyed said they have experienced lumber shortages and 14% have experienced steel shortages. There are also concerns about tariffs on steel and aluminum, which 35% of contractors say will have a negative impact.
Still, other indicators speak more to the optimistic side of things. For instance, 37% of contractors say they plan to increase equipment and tool expenditures. And the overall level of contractor confidence is at a score of 59, up another two points from the fourth quarter of 2020.
A healthy construction industry is vital to a strong U.S. economy. As Chamber leader Bradley points out: "Rising optimism in the commercial construction industry is a positive sign for the broader economy."